District News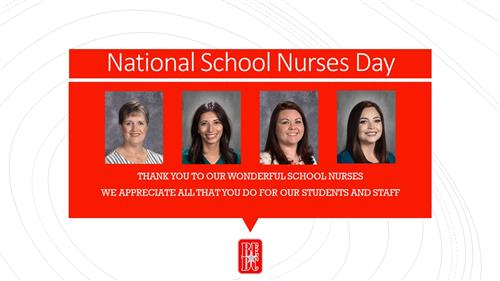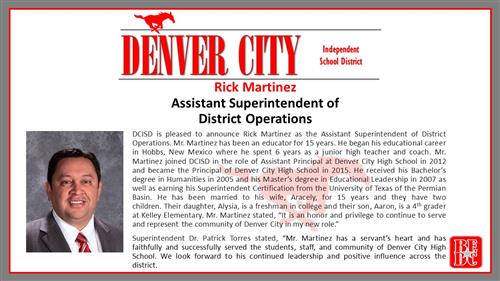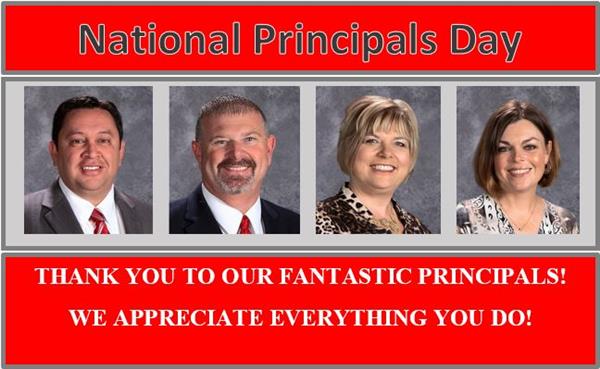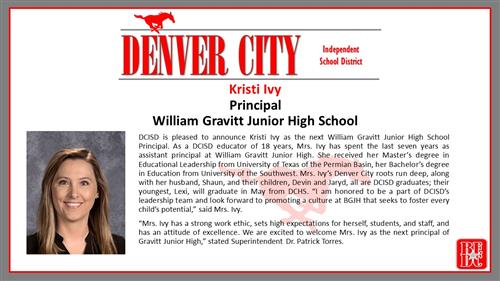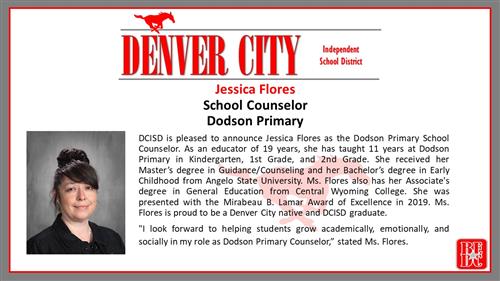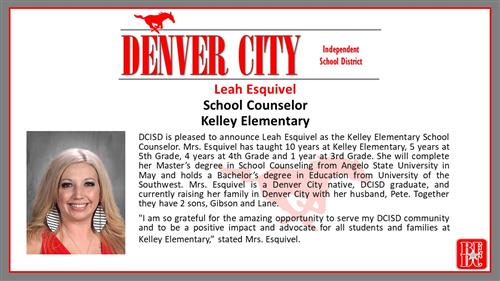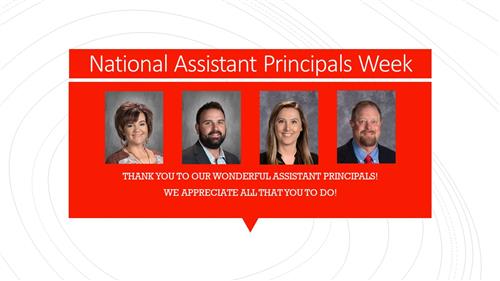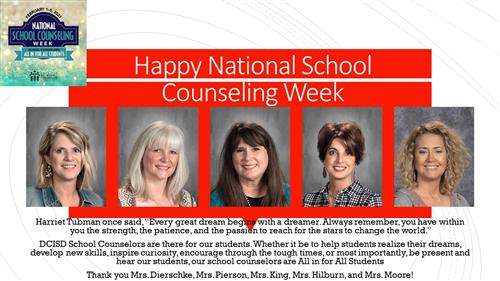 JANUARY IS SCHOOL BOARD
RECOGNITION MONTH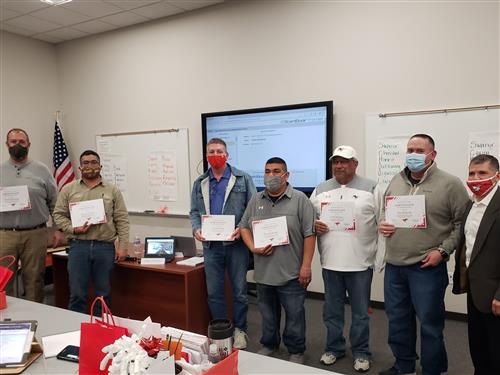 During the January School Board meeting, DCISD expressed their appreciation to the Denver City ISD Board of Trustees. Each campus thanked the school board for their hard work and support, while each member was showered in gifts from the campuses and departments. Superintendent Patrick Torres, also presented certificates to the 2020-2021 trustees to recognize them for their dedication to our children, schools, and community.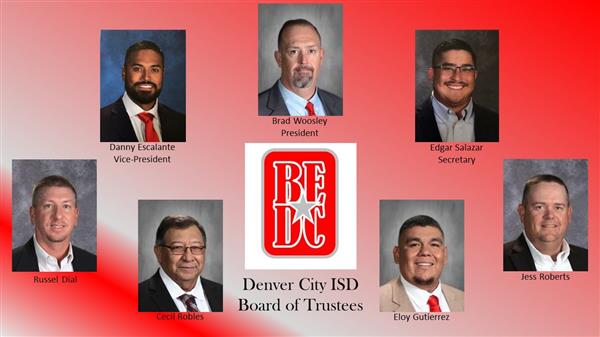 Our DCISD Board of Trustees serves our kids and community, thank a board member today for their dedication!
DCISD NEW SUPERINTENDENT
DR. PATRICK TORRES
The Denver City Independent School District Board of Trustees is excited to announce the unanimously approval of Dr. Patrick Torres as the district's new superintendent. All board members and Dr. Torres' family were present at the special board meeting held on October 27th, which was after the 21 day waiting period as required by Texas law.
Being well versed in education, Dr. Torres will bring to Denver City 27 years of experience. He has served as a teacher, coach, mentor, assistant principal, principal, and assistant superintendent in districts that include Dallas ISD, Wylie ISD, Grapevine/Colleyville ISD, Eagle Mountain Saginaw ISD, and Red Oak ISD. "I am honored to have been selected as the next superintendent of Denver City ISD and am grateful and appreciative to the Board of Trustees for giving me the opportunity to serve this amazing district," he states. Dr. Torres is bilingual and has experience in working with students, staff, and communities from a variety of backgrounds where he has successfully led initiatives that focus on the academic, social, and emotional development of students. "I believe that every child is unique and special with different gifts, talents, and needs, and the key to continued success in a school district is through building positive and strong relationships with students, staff, parents, and the community," shared Dr. Torres.
Dr. Torres has successfully built collaborative teams and created a positive culture of trust and transparency that resulted in increased community engagement and student achievement. "I am looking forward to partnering with the staff and community in continuing to build on the many successes of the district while remaining focused on fulfilling the Denver City ISD vision and mission of fostering a respectful, safe, and challenging environment that provides opportunities for all students to reach their full potential," expressed Dr. Torres.
He earned a Bachelor of Science from the University of North Texas, a Master of Education from Dallas Baptist University, and Doctor of Education in Leadership from Dallas Baptist University. Dr. Torres has been married 18 years to his wife Jill, a former Speech and Debate teacher and Texas Tech alumna. They have 3 daughters. Mia Grace, 9; Monica Faith, 6; and Malia Hope, 4. "My family is excited about getting to know everyone and being a part of the Denver City community, a place we will be proud to call home because of its strong values and beliefs of faith, family, education, love of country, and service to others." Please help us extend a warm welcome to Dr. Torres and his family as he joins the DCISD team on November 2nd.
Reopening DCISD for 2020-2021




REOPENING DENVER CITY ISD
We are anxiously awaiting the arrival of your student(s) on August 17 and have been making preparations to ensure the health and safety of your student(s). Despite extensive challenges, DCISD will continue to provide excellent instruction to our students in our classrooms face to face and virtually.
As our community navigates the uncertainty of COVID-19, we understand our Denver City ISD families, staff, and community members have questions and concerns about the upcoming school year. While we may not have all the answers – this is a first for all of us – our goal is to provide our parents with as much information as possible so they can make the best decisions for their families when school starts on August 17.
How is Denver City ISD preparing to reopen?
While it is not possible to eliminate all risk of furthering the spread of COVID-19, current science suggests there are many steps we can take to significantly reduce the risk to students, teachers, staff, and families. Denver City is closely monitoring guidance from the State of Texas, TEA, CDC, UIL, pediatricians, and other state and local officials on how to reopen safely.
We are currently in the process of making changes to safety and health protocols, enhanced cleaning procedures, and operational and instructional adjustments. The following document is a comprehensive plan with steps Denver City ISD will take to safely reopen our campuses with minimal disruptions to our students' regular school experience.
In order to meet the needs of our students, this fall Denver City ISD is planning for two different models of instruction. Plans will be flexible to accommodate potential changes with the COVID-19 situation as these guidelines may need to be modified. It is our priority to keep families informed and provide you with the most up-to-date information.
Denver City ISD will be providing parents the opportunity to choose one of two instructional models. Although we are offering both Face-to-Face Instruction and Virtual Instruction, DCISD recommends Face-to-Face learning as the best overall method for student success.
Health and Instructional Plan for 2020-2021 Link
Virtual Instruction Link
District Guide to Reopening Schools for Parents Link
---
Click HERE for COVID-19 Information, Coping Tips and Mental Health Resources
---

Click the blue box to make a report or HERE to learn more about the StayALERT school safety program.
---